You will find simulation incorporated into all clinical courses within the undergraduate and master's programs. Simulation allows students the opportunity to practice newly acquired skills and handle patient/family situations not typically seen in the clinical setting.
As of December 2018, the simulation program has been awarded accreditation through the International Society of Simulation in Healthcare in both Teaching and Research. The HITS team additionally creates practice partnerships to share their expertise in simulation. Through these opportunities, community clinical partners have been able to develop simulation programs at their facilities. These programs resulting from the HITS partnerships are grounded in simulation best practices to improve provider competencies and improve patient outcomes.
---
Simulation Team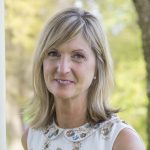 Susan Hébert is the Simulation Director at the University of Tennessee College of Nursing. She has a unique educator experience integrating simulation for both medical and nursing programs. In her current role as the Simulation Director, she oversees simulation administration, including management of simulation personnel, integration into curricula, facilitation logistics and necessary elements for program accreditation.
Ms. Hébert serves as a consultant in simulation processes including design and renovation of simulation spaces and development of simulation educational curriculum.
Mrs. Rachael W. Hodges is the Simulation Coordinator for the University of Tennessee, Knoxville College of Nursing. Her background involves clinical bedside nursing at two major Tennessee hospital systems before returning to the College of Nursing in 2017. In addition to simulation best practice development, she has expertise in use of Standardized Patients. She has been instrumental in supporting UTKCON Simulation Faculty Development program, has organized both the Standardized Patient and Simulation Lab Student Assistant Programs, and worked diligently alongside the Simulation Director to continually develop the Simulation Program in both education and community outreach initiatives.
Mr. Marricco D. Summeour is the Simulation Operation Specialist for the College of Nursing. He has over 20 years of IT experience and has combined his extensive IT skills with medical skills learned from local hospital systems. He has actively pursued development in simulation best practices to strengthen his understanding and proficiency in simulation, while learning and integration simulation into daily practice. His job responsibilities include: operation, installation, configuration, and maintenance of technical equipment associated with simulation technology along with management of manikins and other simulation programs and equipment.
Ms. Carrie Monroe is the Simulation Lab Assistant for the College of Nursing. She is actively pursuing development in simulation best practices while maintaining the simulation labs. Her clinical background includes experiences in both hospital and EMS setting. She obtained her Advance Emergency Medical Technician certificate from Cleveland State Community College and Paramedic certificate from Chattanooga State Community College. She has also completed an Associate's degree in Health Science.