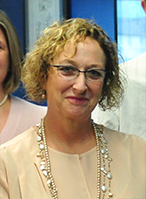 Dr. Tami H Wyatt, Co-Director of the HITS Lab, is a Professor and Associate Dean of Research at the College of Nursing. She has been a registered nurse, nurse educator and instructional designer for twenty plus years. Dr. Wyatt has a funded research path in health information technology and expertise in simulation and nursing education.
Dr. Xueping Li, Co-Director of the HITS Lab, is a Professor and Director of the Ideation Laboratory (iLab) at the Department of Industrial and Systems Engineering at Tickle College of Engineering (TCE). Dr. Li has expertise in complex systems modeling, simulation, scheduling, and optimization, information systems analysis and design, and healthcare systems engineering. His research has been funded by National Science Foundation (NSF), National Institutes of Health (NIH), Department of Energy (DOE), Department of Labor (DOL), and so on.
Ms. Susan Hébert
, HITS Simulation Director, has experience in simulation training from Indiana University, which is well known for their innovative and progressive teaching programs. Ms. Hébert has experience in grant writing and currently holds four patents with colleagues at Indiana University. She has coordinated the renovations, purchasing and installation of simulation technology in the HITS labs. Ms. Hébert's expertise in simulation helps identify solutions to common simulation problems.
Dr. Sarah Lowe, Professor in Graphic Design and a HITS Fellow has a research focus in the design and interaction of mobile and tablet applications. She has designed experiences for a range of contexts, most notably, the US National Park Services, the US Holocaust Memorial Museum and the Eastern Band of Cherokee Indian. In 2012/13 she spent the year at the University of Oslo, Norway, researching educational technologies in relation to learning theory as a Fulbright Research Scholar. Ms. Lowe provides the expertise on user experience including information architecture, interaction and visual outcome.
Dr. Tom Berg, currently serves as the Strategy Director of the HITS lab and Assistant Professor at the College of Nursing. He comes to the College of Nursing with more than 25 years of diverse technology experience in the government and private sector. He has a PhD in Systems Engineering from UTK, an MBA and Chemical Engineering degree from the University of Wisconsin and professional certification in technology project management. His professional experience has focused on transitioning technology from research to applied use, managing applied research and development programs and building university and private sector partnerships for the accelerations of the advancement of technology. His academic interests are on the application of engineering in support of nursing, specifically he is interested in computer modeling of complex adaptive systems as a way to develop comprehensive understanding high consequence systems (e.g. healthcare operations) behavior.
Each member of a HITS project team demonstrates expertise in his/her respective role. Our collaborators include:
College of Nursing
Lisa C. Lindley
Sadie Hutson
Sheila Taylor
Andi Damewood
Deb Chyka
Lora Beebe
Sandy Mixer
Nan Gaylord
Tom Berg
Lisa Merritt
Tickle College of Engineering
Jindong Tan
Oleg Shylo
Anahita Khojandi
Floyd Ostrowski
Xiaopeng Zhao
Shuai Li
Qiang He
College of Education, Health, & Human Sciences
Karee Dunn
College of Social Work
Teresa Abrams
Elizabeth Strand
School of Design
Cary Staples
UT Medical Center/Graduate School of Medicine
Chayawat "Yo" Indranoi
Paul Hauptman
Leo Lamsen
UT Health Science Center
Sajeesh Kumar

East Tennessee Children's Hospital
Heather Radu
Eric Ayers